Prayer for Us

Listen to Rob's Expanded Audio Horoscopes, updated weekly.
Cancerian Forecasts for 2012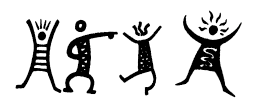 Cancerian, here are some different angles on your long-term destiny: my forecasts for you in 2012.

PART 1
In 1992, 30,000 Americans signed a petition asking the governor of Hawaii to change the name of Maui to "Gilligan's Island." Fortunately, the request was turned down, and so one of the most sublime places on the planet is not now named after a silly TV sitcom. I'm urging you to avoid getting swept up in equally fruitless causes during the coming months, Cancerian. You will have a lot of energy to give to social causes and collective intentions in 2012, but it will be very important to choose worthy outlets that deserve your intelligent passion and that have half a chance of succeeding.

*

PART 2
Terrence Malick's Tree of Life is an ambitious work that deviates from formulaic approaches to film-making. Some observers hated its experimental invocation of big ideas, while others approved. New York Times critic A.O. Scott compared the movie to Herman Melville's Moby Dick, one of America's great works of literature. Here's what Scott wrote: "Mr. Malick might have been well advised to leave out the dinosaurs and the trip to the afterlife and given us a delicate chronicle of a young man's struggle with his father and himself. And perhaps Melville should have suppressed his philosophizing impulses and written a lively tale of a whaling voyage." Using this as a template, Cancerian, I urge you to treat 2012 as a time when you will be like Melville and Malick in your chosen field. Trust your daring, expansive vision.






In addition to the 'scopes you're reading here, I've created EXPANDED AUDIO HOROSCOPES that explore your long-range destiny in 2015.

What will be the story of your life in the coming months? What new influences will be headed your way in 2015? What fresh resources will you be able to draw on? How can you conspire with life to create the best possible future for yourself?

To listen to these three-part, in-depth reports, go to RealAstrology.com. Register and/or log in through the main page, and then access the horoscopes by clicking on the links:

"Long Range Prediction, Part 1"
"Long Range Prediction, Part 2"
"Long Range Prediction, Part 3"

If you'd like a boost of inspiration to fuel you in your quest for beauty and truth and love and meaning, tune in to my meditations on your Big-Picture outlook.

Each of the three-part reports is seven to nine minutes long. The cost is $6 per report. There are discounts for the purchase of multiple reports.





PART 3
It's impossible for the human body to run a mile in less than four minutes -- at least that's what the conventional wisdom used to say. And indeed, no one in history ever broke that barrier until May 6, 1954, when Roger Bannister raced a mile in three minutes, 59.4 seconds. Since then, lots of athletes have done it and the record has been lowered by another 17 seconds. In fact, the sub-four-minute mile is now regarded as a standard accomplishment for middle-distance runners. I suspect that in 2012 you will accomplish your own version of Bannister's feat -- a breakthrough that once seemed crazy difficult or beyond your capacity.